Personal Injury and Wrongful Death Attorneys Serving Southwest Ohio
OVER 55 YEARS SERVING
THE COMMUNITY
AT LARGE
Southwestern Ohio's Premier Law Firm Since 1962
At Holcomb & Hyde LLC, we have a track record of winning cases and winning them well. We do everything we can to settle a case before it goes to court, but if it does, we can fight tooth and nail on your behalf.

Richard A. Hyde
ATTORNEY
---
Holcomb & Hyde LLC was started by me and my late partner, John F. Holcomb. John was integral to the firm's success, and his name lives on in the title of my practice to honor his contributions and symbolize the impact he had on his clients, his fellow attorneys, and his community. I strive to continue that legacy by working hard for my clients every single day. If you have a legal problem, let me help. No two cases are alike, so I take a personal approach to every client who comes to me for guidance. Put an attorney with extensive experience on your side—schedule a consultation with me today.
Tyler W. Nagel
ASSOCIATE ATTORNEY
---
As a native Ohioan born and raised, I am proud to advocate for the members of my community in the face of legal difficulties. I joined the team at Holcomb & Hyde in June 2020 and have since helped countless clients achieve favorable results in their personal injury and criminal defense cases. If you are in need of a communicative, dedicated, passionate attorney to lead you toward a brighter future, reach out to me in Hamilton, Ohio, today. Whether I can reach an amicable resolution to your case or I need to go to trial to fight for your rights, I am ready and willing to do what it takes to advocate for you.
The Holcomb & Hyde Difference
Experienced & Well-Qualified
We have more than 50 years of combined experience practicing law and we've seen it all. No matter how complicated your situation is, we can handle it.
Creative Solutions
Every case is different, which means that every case needs a unique solution. We analyze every detail of your situation and tailor our approach accordingly.
A Team Dedicated to You
Our clients come first. No matter what you need, we're here to take the burden off your shoulders so you can put your mind at ease. Let us do the heavy lifting.
Trusted Advisors For the Future
When we take on your case, we are more than happy to provide advice in the future. Legal advice is complicated, and it always helps to have lawyers you can trust.
"Everything I do is customized to fit my clients. What they say matters. In fact, we rely solely on word-of-mouth advertising alone."
To be blunt, the cookie-cutter approach to legal matters just does not work. Each case is unique from the one before it, and different people desire different outcomes depending on their situation. That's why we build our strategies from the ground up with our clients' best interests in mind, and it's why so many that we've helped tell everyone they know about us. When you don't need commercials and ads to do your advertising, you know you're doing something right. Our results speak for themselves, and you'll feel the exact same way.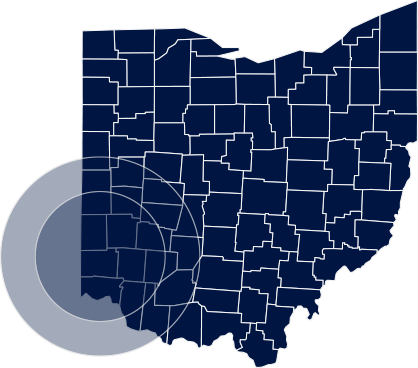 Serving All of Butler County & the Surrounding Area
Hamilton, Ohio
We work just north of Cincinnati, serving clients in Butler County and the surrounding area, including West Chester, Liberty Township, and Mason. All of Butler County is our workplace.
Middletown, Ohio
If you're north of the river and up the highway from Hamilton, don't worry. Middletown is still in our range, and we can help you seek compensation for an injury or combat criminal charges.
Fairfield, Ohio
If you've driven from Hamilton to Cincinnati, then you've been through Fairfield. It's another area we happily serve.
Cincinnati, Ohio
When you're faced with a legal issue in Cincinnati, turn to us. We're ready to help you seek a favorable solution.
When you refer your clients and loved ones to us, they're in good hands.
We've been helping the people of Butler County and partnering with other professionals for over 55 years.
With any business, a referral is the highest form of honor. It means that we did our job so well that someone who knows us went out of their way to recommend us to other people, putting not only our name on the line, but also their own. We treat that as sacred, and when someone does come to us via a referral, we make it our goal to prove ourselves worthy of the honor by providing the same exemplary service each and every time. When you hire us, we want you to be so satisfied with your case result that you'll want to tell everyone what we did for you.
Our Purpose Is to Help People Through Difficult Times
We understand the burden of legal trouble, so we do our best to ease your stress with 5-star service.
The worst part about any legal problem isn't actually going to court; it's the stress that it places on your life. Sure, there are plenty of lawyers who can win your case for you, but not every lawyer can make you feel relaxed while doing so.
The relaxation is where we come in. We won't just tell you what our next move is, we'll explain it to you. We lay out all your options in front of you, educate you on your choices and their consequences and then let you decide what path is best for you. A lawyer's own interests aren't always your own, but ours are.
When you're facing a criminal charge, the first thing you'll want to know is that everything will be okay and that your life can still go back to normal. Unfortunately, prison or jail time isn't avoidable in every situation. However, a good lawyer can significantly reduce the time you spend incarcerated.
If you need a lawyer skilled in personal injury, family law, or criminal defense, don't hesitate to call us. The longer you wait to resolve your legal problem, the worse it will get. Put us on your side and let us help you get you back on track.